How to Become An Animator in India
9 min read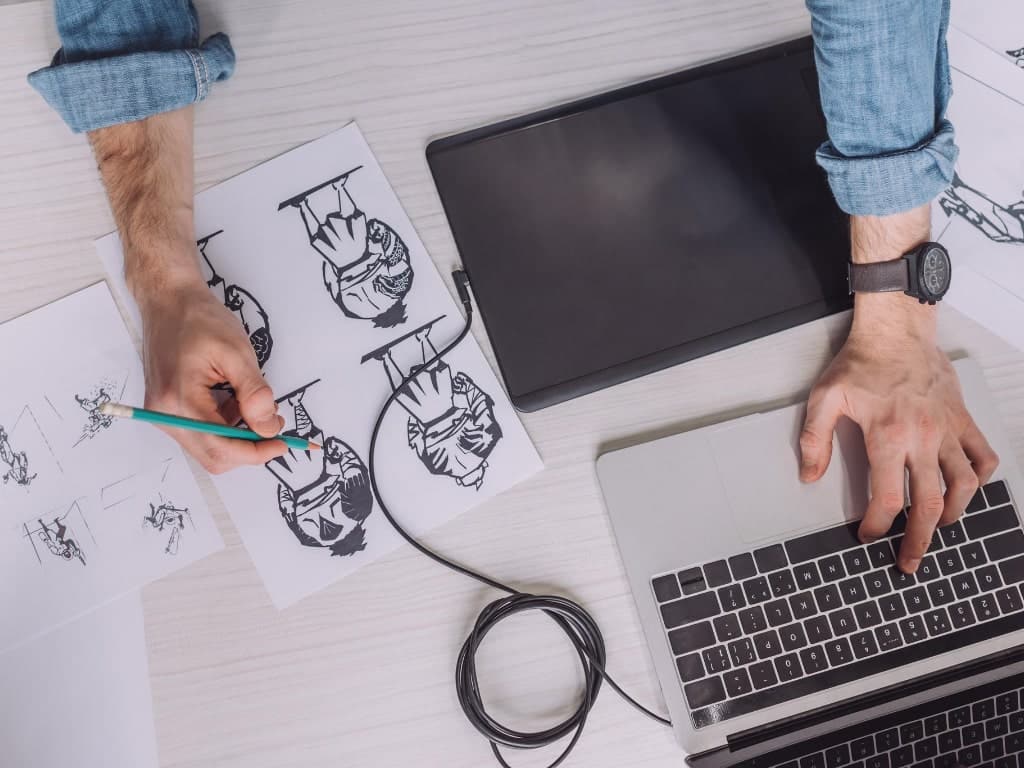 Do you want to know How to Become an Animator in India? Are you influenced by the work of an Animator in movies like Angry Birds, Tom and Jerry, King Kong: the king of apes, and other animated movies? You should give a try to this article and read it till the end to know all the required information regarding how to become an Animator.
This article will brief you about the roles and responsibilities, courses, eligibility criteria, job opportunities, career scope, top institutions to hire the students, entrance exam to crack, syllabus to study, and best colleges to pursue the course in India.
Choosing this as a career perspective, you will enjoy a lot the journey of these courses and make the audience more entertaining and happier. A lot of hard work and dedication is required to pursue such a course and get benefits out of it.
What is Animation
Animation is all about designing the illusions of the characters, background, emotions, and visual effects for a movie or game to entertain an audience and get their eyes on it to make such movies. 
About Animator
The one who does animation is called Animator. Being an animator is not that easy lot of patience and hard work is required to work on the project. The career in Animation is very trending as it uses visual effects to frame the movie or games. These days Animations are getting more popularity in the blockbuster to gain the attention of the audience. 
Animation Courses in India 
The courses to get enroll to be an Animator in India are mentioned below. 
Courses
Duration
Average Fees
B. Des in Animation
3 years
Rs 2-4 lakhs 
B.Sc. in Animation 
3 years
Rs 10,000-Rs 5,00,000
BA in Animation & Multimedia
3 years
Rs 54,000-
Rs 1,85,000
BA in Digital Filmmaking and Animation
3 years
Up to Rs 1lakh
B.Sc. in Animation and VFX
3 years
Rs 54,000 –
Rs 1,85,000
BA in Animation and CG Arts
3 years
Rs 10,000 – Rs 5 lakhs
Bachelor of Visual Arts
3 years
Rs 50k – 6 lakhs
B.Sc. in Animation and Gaming
3 years
Rs 54,000 –
Rs 1,90,000
BA in Animation and Graphic Design
3 years
Rs 10,000 –
Rs 4 lakhs
Bachelor of Fine Arts in Animation, Graphics, and Web Design
3 years
Rs 2-5 lakhs
PG Diploma in Visual Effects and 3D Animation
2 years
Rs 10,000- 3 Lakhs
M.Sc. Animation
2 years
Rs 2-3 lakhs
M.Sc. Animation and Design
2 years
Rs 1-3 lakhs 
M.Sc. in Game Technology
2 years
Rs 50k-3 lakhs
M. Sc. in Graphics, Animation, and Gaming
2 years
Rs 30k- 6 lakhs
M.Sc. in Animation and Multimedia
2 years
Rs 10k-5 lakhs
  M.Sc. in Animation and VFX
2 years
Rs 2-6 lakhs
M.A. Animation and Multimedia
2 years
Rs 3-5 lakhs
Role & Responsibilities of an Animator
As an Animator, you have some responsibilities to work in the Animation world.
He/She need to listen to clients need and present the budget of the project.
He/She must know how to use animated software like 3ds Max, Maya, Cinema 4D, Flash, and LightWave.
He/she must have a good command of programming languages. 
As an Animator, you must complete the project within the deadline.
You need to work in a team.
As an Animator Record Dialogue, give special effects, graphics, make characters and build background.
Quick Steps to Become an Animator 
Here are steps to be an Animator follow the process and implement the same to get the desired course.
Step-1
Choose the course to pursue as an Animator.
Step-2
Prepare for the entrance exam to crack it and get enrolled in the desired college. Even few institutes or universities do not opt for entrance exams. 
Step-3
Complete your degree from an authorized university and get certified to the same to get jobs in the best companies.
Step-4
Meanwhile, you must go through an internship process to get a hand on some projects and learn through practical knowledge.
How to Become an Animator in India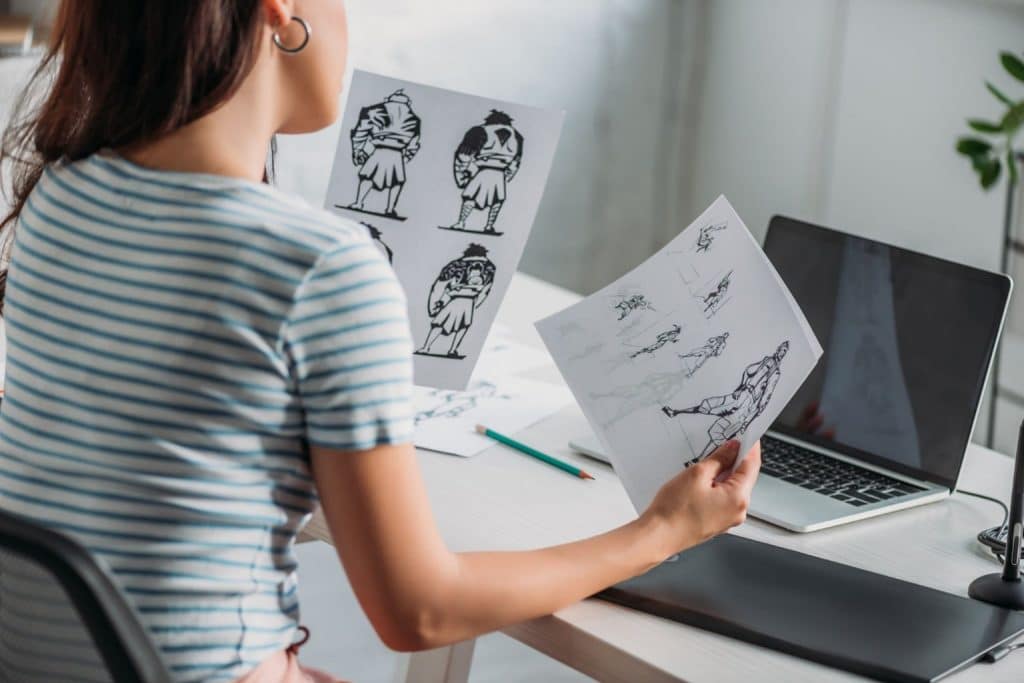 Eligibility Criteria
To become an Animator in India you need to possess the following eligibility criteria.
Age Limit
There is no such age limit is required for an Animator. If you have skills, you will explore the field with great output.
Educational Qualification 
To get enrolled in Animation courses you should complete the 10th standard from any authorized board.
| | |
| --- | --- |
| Degree | Educational Qualification |
| 12th standard | The aggregate of 50% needs to be scored in the 12th standard. |
| Graduation/Bachelor's Degree | The aggregate of 50% needs to be scored in Graduation/Bachelor's degree. |
Skills Required
You need to have the following skills to be an Animator. 
You need to be good at creativity and art.
He/She must have IT skills and know-how to use other software.
Good communication skills.
Ready to work in a team and complete the project.
He/She must be punctual and regular in their work.
He/She should have the good listening capability to understand the need of the clients and convey the same to the team.
Entrance Exam
There is a lot of Entrance Exam to crack and get enroll in the desired college. Few of the Entrance Exams are mentioned here.
| | |
| --- | --- |
| National School of Design Animation Entrance Exam | NIT DAT Entrance Exam |
| Arena Animation Academy Entrance Exam | BIT Entrance Exam |
| Picasso Animation college Entrance Exam | ITM IDM Entrance Exam |
Syllabus
Following is the syllabus to learn and work on as an Animator. The exams are held on a semester basis.
Semester-1 
Elements of Information Technology
Foundation Art
Basics of Animation
Introduction to Programming language
Semester-2 
Multimedia and Computer Graphics
Computer-based 2D Animation
Introduction to Mass Communication and Media Literacy
Introduction to 3D modeling and Animation I
Semester-3
Technical English – I
Multimedia-I 
3D Animation-I
Composing and Editing
Production Process -I
Semester-4
Production Process-II
Technical English-II
Multimedia-II
3D Animation-II
Sketching and Landscaping
Semester-5
Script Writing-I
V.F.X-I
Gaming Technology
Visual Effects-I
Content Development Direction-I
Digital Editing and Motion Graphics – I
Semester-6
Script Writing-II
V.F.X.-II
Gaming Production
Visual Effects-II
Content Development Direction -II
Digital Editing and Motion Graphics – II
Books & Study Materials
The book name Animator's Survival Kit by the Author Richard Williams
The book name Animation Form: Script to Screen by the Author Shamus Culhane
The book name Character Animation Crash Course by the Author Eric Goldberg
The book name How to Make Animated Films by Author Harold Whitaker and John Halas
The book name Humans and Animals in Motion by the Author Eadweard Muybridge
Internship Program
As an Animator Student, you must do an internship from an authorized firm to get updated in your resume for better scope and opportunities. The learning during this internship will improve your skills and help you get into a work environment. The higher authorities will guide you and question you for your work to make you more confident and capable to sustain in this field. 
As an intern, you will be piled up with work and learn to complete it within a given deadline. Internships are a compulsory part to explore the Animation field in a better way and it will help you can lot of connections which will be helpful at times of getting the job. 
Work Experience
As such no work experience is required until and unless you are good at creativity and sketch. If also, you have any experience it is well and good for better opportunities. 
How to Become an Animator in India without Degree
It is possible to learn animation without a degree. Few points are mentioned here to learn and explore. You need to work or practice the animation work under experts. They will guide you and make you master the field. 
You must learn or look at the uses of the software that is used in animation. Even exploring the software and working on it will teach you a lot of things. Practice the ideas in a sketchbook or on paper.
Short Term Courses
The short-term courses to get the work of as an Animator are listed below. 
| | | |
| --- | --- | --- |
| Courses | Duration | Average Fees |
| Diploma in 2D Animation | 1 year | Rs10,000-3,00,000 |
| Diploma in Animation and VFX | 1 year | Rs 2-6 lakhs |
| Diploma in CG Animation | 6 months | Rs 10k-1 lakhs |
| Diploma in 3D Animation | 1 year | Rs 2-5 lakhs |
| Diploma in Digital Animation | 1 year | Rs 2-3 lakhs |
| Certificate in 2D Animation | 3-6 months | Rs 10k -1 lakhs |
| Certificate in CG Arts | 3-6 months | Rs 20k-1 lakhs |
| Certificate in 3D Animation | 3-6 months | Rs 10k-1 lakhs |
| Certificate in VFX | 3-6 months | Up to 1 lakhs |
| Certificate in Editing, Mixing and Postproduction Works | 6 months | Up to 1.5 lakhs |
Job Opportunities
As an Animator, you must know the fields in which you can gain your expertise. Here is the list of options to explore and learn new things.
Beginner Animator
At the initial stage of the work, you will work under the experts and gather all the practical and theoretical implementation of the animation.
Character Animators
Character Animators give life to the designed character and add effects and motion to present them in a 2D or 3D way.
 2D Animator 
2D Animators give an idea of the background, make the character and new themes or concepts to make the animation in an attractive way.
3D Animator 
3D Animators make a character for video games, television, and other required source. The images or character looks more original and touchier.
Background Artist Animator
As a Background Artist Animator, your work will be to paint the background characters in every project that you are enrolled in. You can get a chance to learn other things like Modeller, StoryBoard Artist, Layout Artist, and Special Effect Artist.
 Compositing Artist 
Compositing Artist gives the final conclusion of the animation and works with texture directors, SFX specialists, and lighting to make the project successful.
 3D Modeller 
3D Modeller looks at the matter from scratch and works consistently. They get the scope in video games, advertising, architecture, films, manufacturing, and engineering.
Texturing Artist 
Texture artists are concerned to give finishing to the models to get featured on the screen.
Career Scope/ Animation as an career
Animations are driving people crazy these days. There are different fields to get employment opportunities for entertainment or gaming purposes. Some of the career scope opportunities are listed below in brief.
Gaming Industries
These days not only children but elders are also involved in playing games online. As an animator, you must design the games, in the same way, to attract more eyes towards it.  
Film Industry 
Animated movies are more loving to people as they showcase the imagination of the artist and display in the movie. Film Industry is the never-ending scope for animators to get employed.
E-Learning Industry
The best way of learning these days is in animated form. In this, things will be understood in a better way. E-learning has great scope in near future and using animation patterns will give more sense to it. Animated classes are more helpful in understanding things and memorizing them. The pay scale is also good on this platform.
Advertising Industry
The advertising industry also needs animators to design the advertisement in an attractive way. 
Business
If you have a good command of animation, then you can have your own institutions to teach students. From a business perspective, this will be the right option to have a bright future.
Also Read
Top Recruiters in India for Animator
Here are the top recruiters in India to get an opportunity to grow in the field of Animator.
Anibrain, Pune
Pentamedia Graphics, Chennai
Reliance Media Companies Ltd, Mumbai
UTV Toonz, Mumbai
Padmalaya Telefilms, Hyderabad
Crest Animation Studios, Mumbai
MAKUTA
Maya Entertainment Limited
Toonz Animation Limited, Trivandrum – Kerala
 Nipuna Services (Chennai – Headquarters)
Salary of Animator
The salary of an Animator differs from position to position. Some of the job profiles are mentioned below. 
| | | | |
| --- | --- | --- | --- |
| Job Profile | Initial Salary in INR  | Intermediary Salary in INR | Final Salary in INR |
| Background Artist | Rs 1, 50, 000 per annum | Rs 3, 00, 000 per annum | Rs 6, 00, 000 per annum |
| Special Effects Artist | Rs 1, 50, 000 per annum | Rs 3, 00, 000 per annum | Rs 7, 20, 000 per annum |
| 2D/3D Animator | Rs 3, 00, 000 per annum | Rs 6, 00, 000 per annum | Rs 10, 00, 000 per annum |
| Character Animator  | Rs. 1, 50, 000 per annum | Rs. 3, 00, 000 per annum | Rs. 7, 20, 000 per annum |
| Storyboard Artist | Rs. 3, 00, 000 per annum | Rs. 6, 00, 000 per annum | Rs. 10, 00, 000 per annum |
Top Colleges in India to perceive the course
The best colleges to pursue Animated courses in India are mentioned below. 
Andhra Loyola College, Vijayawada
Amity University, Lucknow
Industrial Design Centre, IIT Bombay
Arena Animation, Bangalore
United world Institute of Design, Gandhinagar
Brainware University, Kolkata
Frameboxx Animation and Visual Effects
Karnavati University, Gandhinagar
Whistling Woods International, Mumbai
Chandigarh University, Chandigarh
Maya Academy of Advanced Cinematic (MAAC)
Brainware University, Kolkata
Maeer's MIT Institute of Design, Pune
Karnavati University, Gandhinagar
Apeejay Institute of Design, South Delhi
VIDM Institute of Management and Design, New Delhi
Conclusion
To conclude, this was all about How to Become an Animator in India. Now it is easy with this simple guide to convert your virtual imagination into reality through Animation. You can achieve your dream of animation movies or motion videos. Do not forget to share your experience. I would like to hear from you.
Sharing is Caring – If you have liked the article share it!