How to Become Full Stack Developer in 2023?
5 min read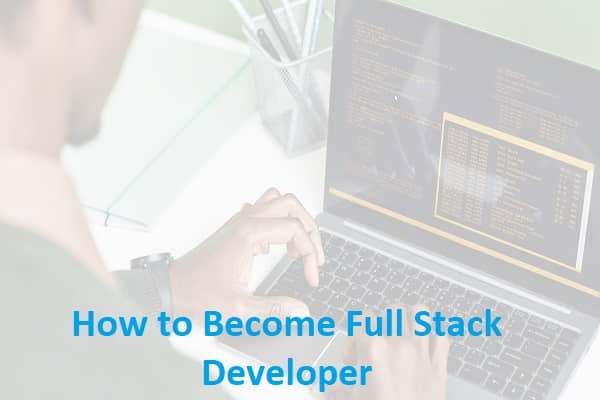 Full-stack developers possess a keen interest in developing. Also, have adequate knowledge and skills in the technical field. Unlike other developers specializing in one area, full-stack developers specialize in every area. Further, these developers have successfully occupied the technological world.
You can also enter the world of technology with an eagerness to learn about technology. Also, you can excel quickly with some knowledge or skill in this field. You can register for a full-stack development certification to learn more.
Who is a full-stack developer?
Before understanding full-stack development, are you familiar with web applications? If not, a web application contains a back and a front end. The back-end code runs on the website server and pulls the outside information for communication. The back-end languages are Python, Nodejs, etc. Meanwhile, front-end code runs on the user's website browser and is visible on their net. The front-end languages are HTML, JavaScript, CSS, etc. You can choose a  full-stack development certification course to learn these languages.
Thus, a full-stack developer possesses knowledge and skills in both front-end and back-end.
Steps to become a full-stack developer:
1.   Advance your skills
You must learn to become a full-stack developer to possess the required soft and technical skills. You can either choose a full stack development certification to advance these skills. Further, knowing that you cannot acquire all such skills at a time and require time to build is essential. It would help if you began with the basics like CSS, HTML, and JavaScript. Later, you can advance on these skills and learn new skills like PHP, Ruby, Python, etc. But, to become a full-stack developer, you need to know all these front-end and back-end skills.
Further, with technical skills, you should also start constructing your soft skills, like problem-solving skills, communication, management, etc. These skills will help you gain leadership power and handle responsibilities.
Additionally, you must also have an adequate understanding of the database. Learn how to function with MySQL, SQLite, Oracle Database, and MongoDB. These skills will help you become an expert full-stack developer.
2.   Educate yourself in programming
With the knowledge of languages, you must work with API development, server technologies, and data structures. Are you familiar with these terms? If not, you may not worry, as with proper education in programming, you will get comfortable with these terms.
You can earn a bachelor's degree in computer programming or computer science to biome a full-stack developer. Further, you can work in any company to earn experience after graduation.
However, if you have pursued your bachelor's with other degree courses but likely want a career in programming, it's possible. All you have to do is gain programming knowledge and build a solid portfolio with good references. Many employers appoint candidates who have a valid full-stack development certification. It is the best option for those who want an alternative to getting a degree in this field.
Whatever path you choose to become a full-stack developer, your journey won't be easy. Knowledge of the back-end and front-end will only grant you opportunities. You must require patience and eagerness to learn to become a successful full-stack developer. Though it may seem complicated, you can become one with complete dedication.
Also read: How to Become a Game Developer in India
3.   Construct your resume and portfolio
With a resume, you must also build a portfolio that shows your work. You must present your work to employers to increase your chances of selection. Also, a portfolio helps to broadcast your skills to them.
Organizations can instantly choose you if you possess diverse skills and could present them in your portfolio. Also, your portfolio grants them an emotional, insightful experience of your back-end and front-end development knowledge.
Your portfolio will also convince the employer about your soft skills and abilities to grasp more knowledge in programming. You can build an excellent first impression on your employer. A full stack development certification in your resume can also increase your selection chances.
4.   Take a certified course
With the expansion of the tech industry, employers demand more full-stack developers. The companies are hiring those candidates who have adequate knowledge of coding. Hence, with the growth of demand for developers, many courses have been established to teach coding. If you have yet to do any certified course in programming, it is time to choose one. You can enroll in a Java full stack developer course to understand all languages. Here, you can acquire a superior knowledge of back-end and front-end technologies and databases.
5.   Prepare and search for jobs
Knowing where you want to work and how much a company pays for a full-stack developer job is essential. You can either choose top companies like TCS, Infosys, and Cognizant or likely can work in start-up companies. Further, you can also search for jobs at Naukri, Indeed, LinkedIn, and other job-related websites. Forwarding your resume and portfolio to companies can grant you a better job. With this, you must also prepare yourself for the interview. To get selected by any company, you must pass their interview rounds. A  full stack development certification can avail you with skills to clear interviews.
Learn about the company's background and study all skills that the employer can ask you. Enlist your past experiences and develop your future goals. Also, giving mock interviews can significantly help get a selection. It would help if you prepared for all verbal and technical questions the employer can ask you. Further, staying focused and confident can add supplements to getting a job.
6.   Be a full-stack developer
It is necessary to read the general guidelines of the job to get a selection for the specialization of your interest. It can be in computer programming, general web development, or data engineering.
If you have experience in this field, you'll understand the responsibilities of the full-stack developer. Although, if you are new to this field, you will learn from your senior developers. Keeping a pace in learning and growing can lead you ahead as a full-stack developer.
Conclusion
Full-stack developers are ruling the technical market. With the tactic mentioned above, you can also become a full-stack developer. Or, join a full stack development course to get success.