PNB net banking Login & Registration
3 min read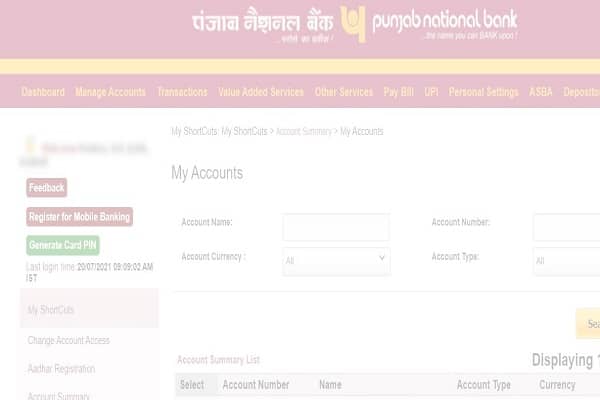 Punjab National Bank provides net banking services for their customers, which makes it faster and easier to access the account of their net banking services and manage financial transactions efficiently. This free feature allows you to access a massive range of services like utility bill payments, funds transfers, tax payments, credit card payments, etc. This excellent facility is also available for NRI customers.
How to register for PNB net banking online?
Here is the step-by-step procedure for registering and activating the net banking facilities for corporate and retail users.
Retail users
First, visit the Internet banking page for retail customers of PNB, i.e., https://www.pnbindia.in/retail-Internte-banking.html.
After this, click on 'Internet banking login.'
Now the next page will appear in front of you; you have to click on the 'new user' option there.
Next, enter your account number and then select the registration type.
Now you must select 'register for Internet banking' and then hit verify button.
After this, you must enter the 'type of facility,' you will also receive an OTP on the registered mobile number.
You need to enter that OTP and then hit the continue button.
Now, enter the debit card number and ATM pin in the required space and hit continue.
Now you have to set the login and transaction password. And make sure both passwords are different.
Now agree to the terms and conditions and hit the 'complete registration' option.
At last success, a message showing your user ID will be displayed on the screen. You have to note it for future use. With the help of the login credentials, you can log in and access your dashboard immediately; however, to enjoy banking facilities, you may have to wait for 24 to 48 hours until verification is completed.
Corporate users
Corporate users of PNB will only be able to access net banking via their bank branch. They have to download form number PNB – 1212 and then submit it to the bank to access net banking facilities.
Once the form is submitted, they will receive the corporate ID, administrator ID, and password.
The corporate ID will remain the same for the admin and other users and identifies the corporate.
Administrators handle every activity for corporate users, like completing transactions and creating any other user for PNB.
Also read: CUB Net banking Login & Registration
How can you log in for PNB net banking?
Retail users
First, visit the net banking portal for retail users,
Now enter the user ID and hit continue. Remember, the user ID and customer ID will be the same.
After this, you must enter the login password and click on login.
Now accept the terms and conditions and enter the OTP sent to your mobile number.
Next, complete the security questions and hit submit button.
Corporate users
On the net banking portal, you have to select the option of corporate users.
You must have a valid user ID and password to access the dashboard of PNB net banking.
Now fill in the OTP you must have received on your registered mobile number.
Next, complete security questions and hit submit button.