Review of Paraphrasingtool.ai: What Features Is It Going to Offer in 2023
5 min read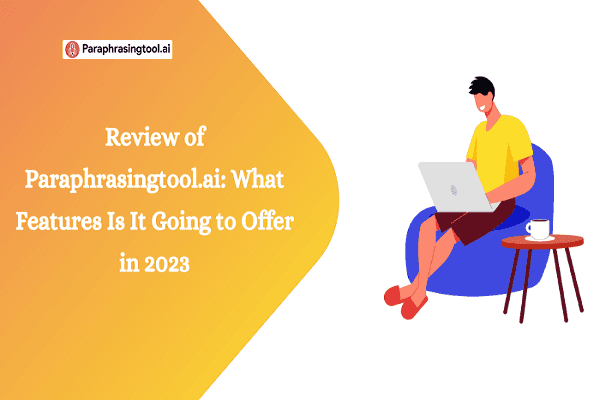 The ability to convey ideas in diverse and captivating ways is important, both in content creation and communication. 
The process of content creation is completely changed with artificial intelligence technology. Among the game-changers leading this wave are AI-powered paraphrasing tools. 
A prime example is Paraphrasingtool.ai, a pioneering tool that not only helps rewrite content but also doubles as a text generation tool. It is simplifying and streamlines the writing process and adds a fresh perspective to text production and content transformation.
This review will uncover the existing core features of the tool. Then, we will shed light on the newly anticipated features of 2023.
First, let me introduce you to what this tool is about.
What is Paraphrasingtool.ai? 
Paraphrasingtool.ai is a versatile tool that serves as a writing companion. It offers a multifaceted approach to text rewriting. 
The tool rephrases the text on hand with precision and clarity. The eight rephrasing modes have played a huge part in the popularity and effectiveness of the tool. 
Imagine having an adept assistant at your side, ready to breathe new life into your content. It is a multipurpose platform that can generate text from scratch. 
Whether you seek to reinvigorate your writing style, craft original essays, or optimize blog posts, Paraphrasingtool.ai presents a wealth of possibilities.
Paraphrasingtool.ai offers the following tools under one roof:
AI-based Parapharser with eight unique paraphrasing modes

Plagiarism checker 

Text summarizer 

Grammar checker 

AI writing assistant (AI Editor)

AI article writer 
This review will focus on the paraphrasing capabilities of the tool. 
The Paraphraser: Core Features
At the heart of Paraphrasingtool.ai lies the Paraphraser. It is an invaluable tool boasting eight distinct rewriting modes. Among these, three of them (Free Rewriter, Text Improver, and Near Human) grant the freedom to rewrite extensive content at no cost. 
Free rewriter

mode caters to the basic paraphrasing requirements of the writer. 

The Text Improver

elevates the readability of the text.

Near Human

mode infuses human-like nuances into your text. 

The

Plagiarism Remover

ensures content originality.

The

Creative

mode sparks inspiration. 

The

Academic

mode caters to scholarly endeavors.

Quill Text

mode emphasizes clarity. 

The

Sentence Rephraser

mode refines individual sentences, enhancing overall flow. 
These modes epitomize Paraphrasingtool.ai's commitment to versatile and comprehensive text transformation.
Integrated Plagiarism Checker
A distinguishing facet of this platform is a built-in plagiarism checker. This feature ensures that the paraphrased content is not unique but also original to the hilt. 
It decreases the risk of unconscious plagiarism and simultaneously improves the authenticity of the content.
The plagiarism checker comes with a rephrasing tool. Along with checking the originality of the text, it can identify the AI-generated text.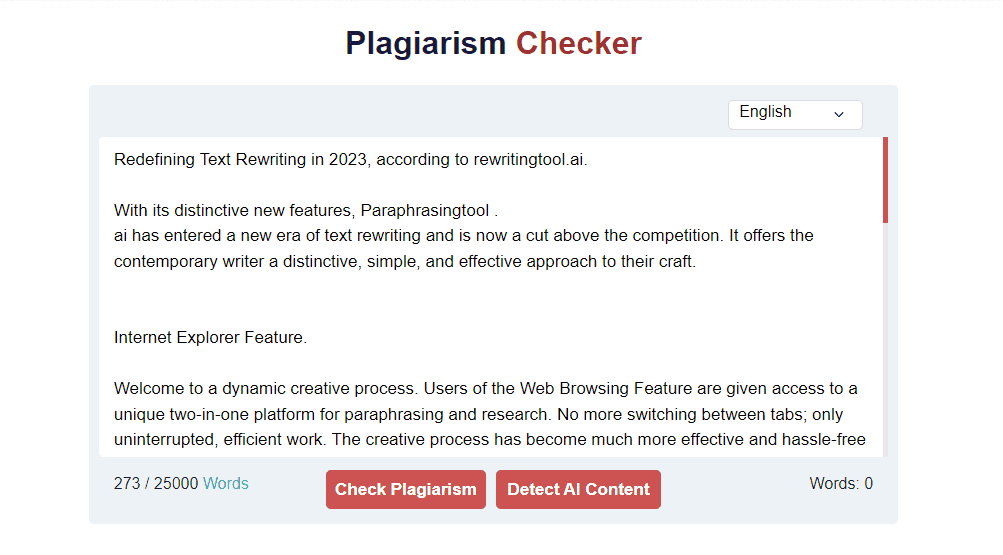 Text Summarizer
The inbuilt Text Summarizer is another ground-breaking feature. This tool promises to promptly distill lengthy and complex text into concise summaries.
The effectiveness of the summarizer is expected to increase exponentially over time due to continuous AI learning and updates. The feature is great for creating meta descriptions and generating condensing lengthy pieces of information.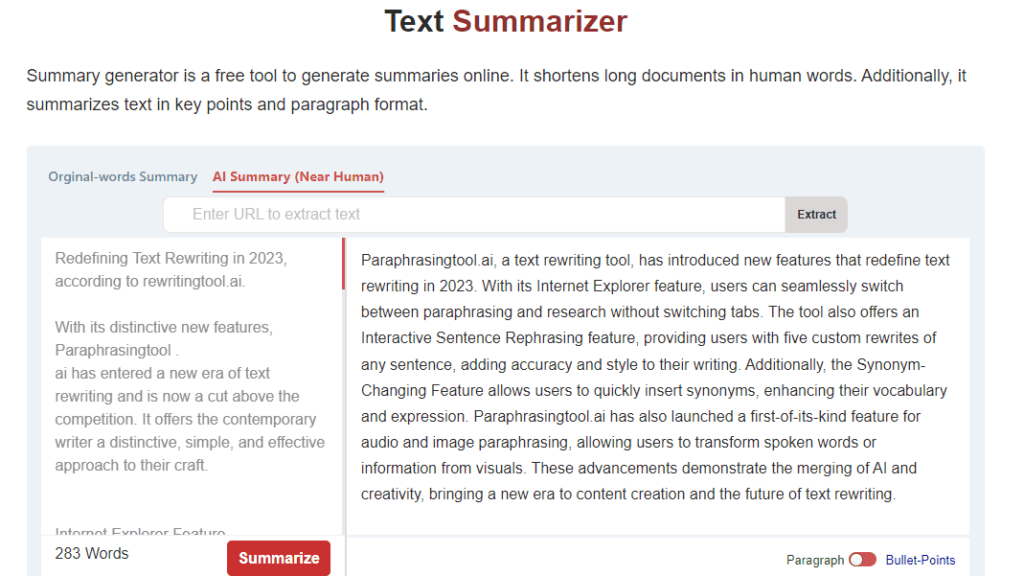 These are the core features of Paraphrasingtool.ai making it a comprehensive solution for all paraphrasing needs in 2023. Considering its prospective features, it promises to cement its place as an essential tool for writers, editors, and students alike. 
These are the brand-new features of paraphrasingtool.ai in 2023:
Paraphrasingtool.ai: Exploring New Features of 2023
Paraphrasingtool.ai has redefined the text rewriting process and now stands a cut above the rest with its distinctive new features. 
It provides the modern writer with a unique, facile, and impactful approach to their craft.
Web Browser
Say hello to a fluid creative process. The Web Browsing Feature presents users with a bespoke two-in-one platform for research and paraphrasing. 
No more tab juggling, just unbroken, streamlined work. It has made the creative journey much more efficient and hassle-free.
Click on 'Web browser' to search for any query.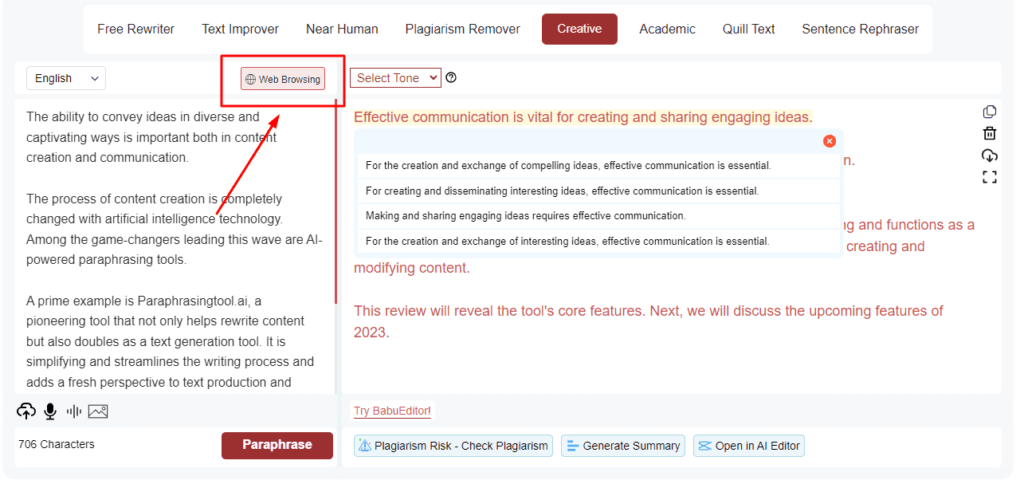 Enter the question in the text box. Click on 'Search on the web' to get the related articles to your question. You can read the full article if you want in the same window. If not, then there is an option to summarize it as well.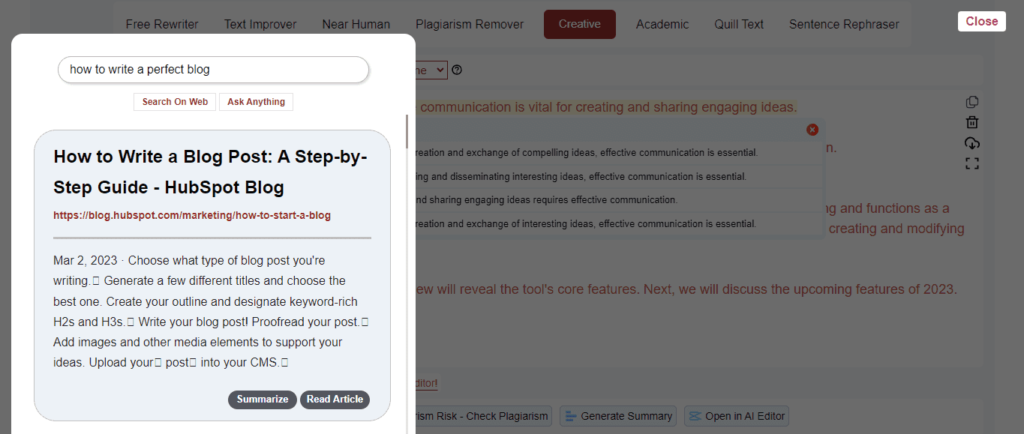 'Ask anything' will give you the exact answer to your search query. See the screenshot below: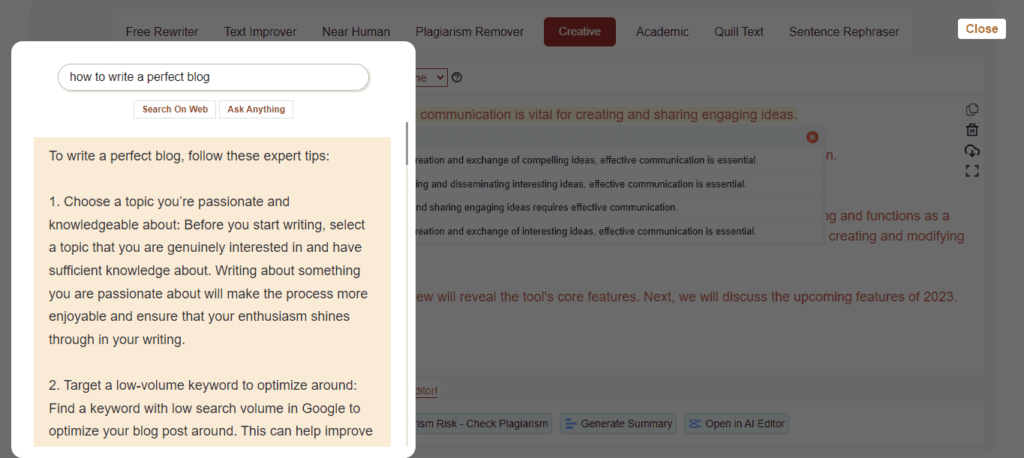 Sentence Rephrasing
The tool hosts an innovative Interactive Sentence Rephrasing feature. It ditches the one-size-fits-all approach. 
Pick a sentence and get multiple tailor-made rewrites. It gives you precision, style, and a dash of fun. It transforms the text rewriting task into a pick-and-choose game.
Also read: PMP Training: What Are The Roles And Responsibilities Of Project Manager In Project Training?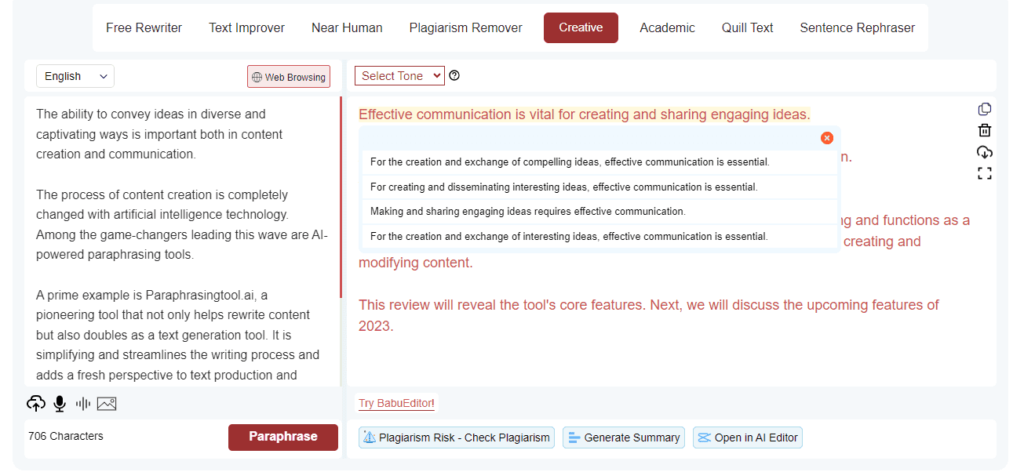 Synonym-Changing Feature
With the Synonym-Changing Feature, you can slot in synonyms with a simple click. It polishes your writing and enriches your vocabulary.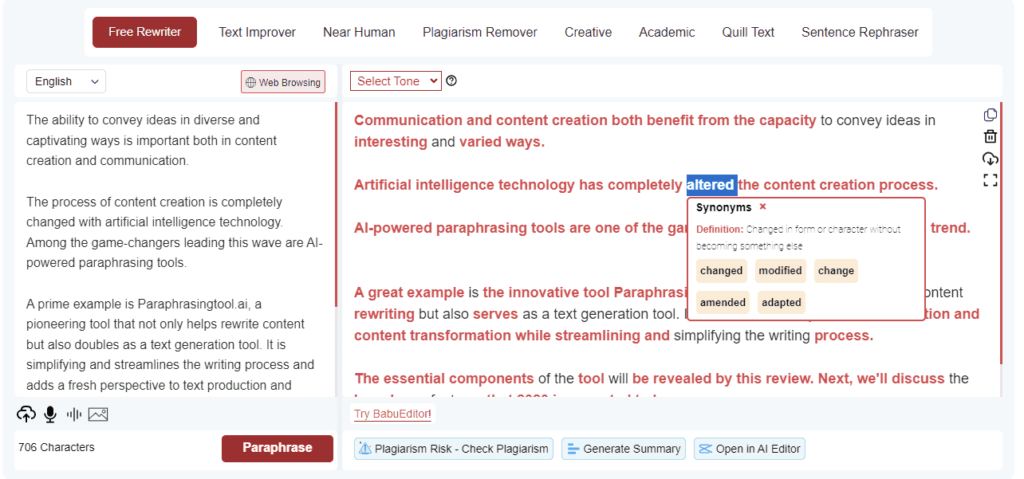 It's an effortless way to diversify your expression, and yes, it adds the wow factor.
First Ever Audio and Image Paraphraser
Paraphrasingtool.ai rolls out an Audio and Image Paraphrasing feature. It is probably the only paraphrasing tool that is offering this feature. 
If you want to rephrase the text from an image, click on this icon shown in the screenshot below: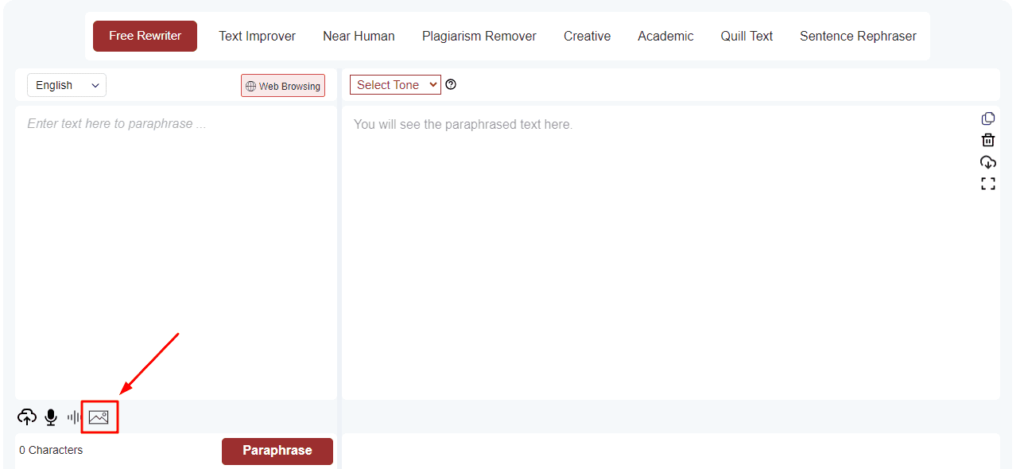 It will take a few seconds for it to extract the text from the image.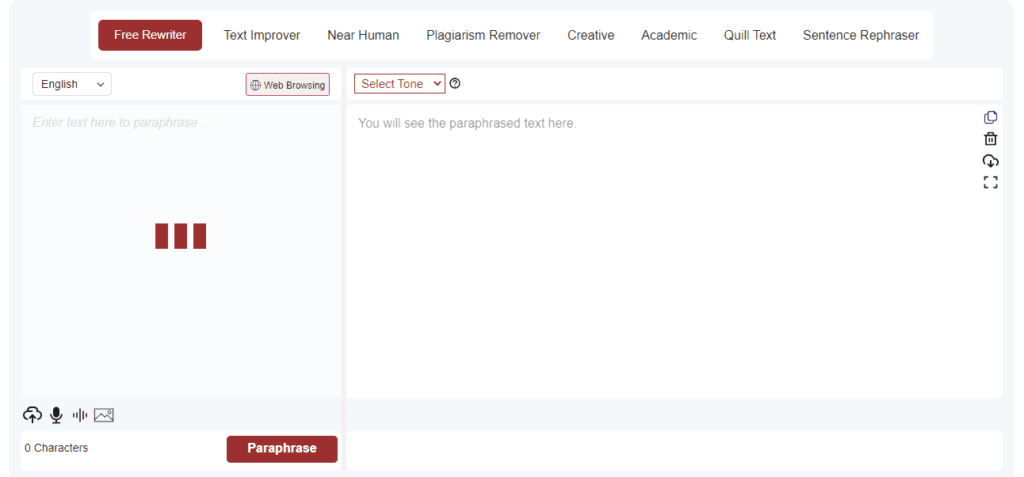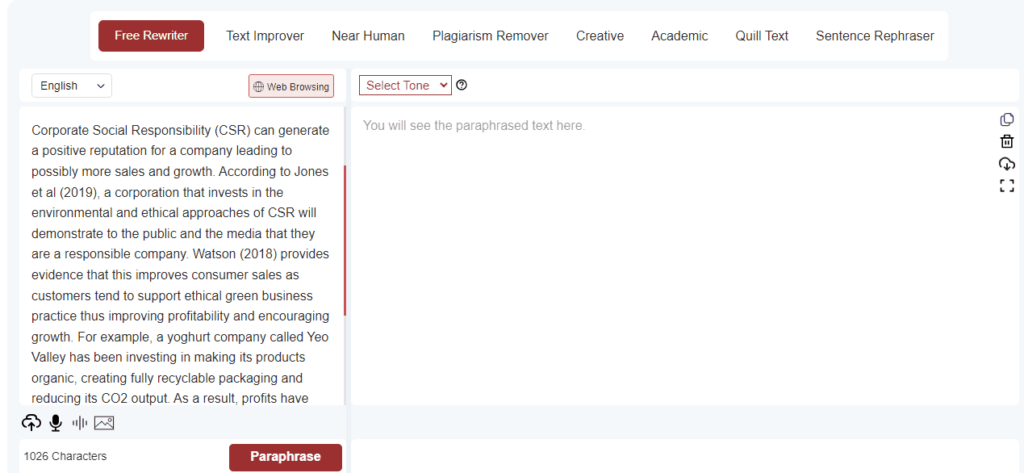 And that's it. Now you can rewrite the text from any picture without any hassle. No need to type long paragraphs manually. Paraphrsingtool.ai has got you covered. 
Similarly, you can enter the text through audio input by clicking on the icon shown below: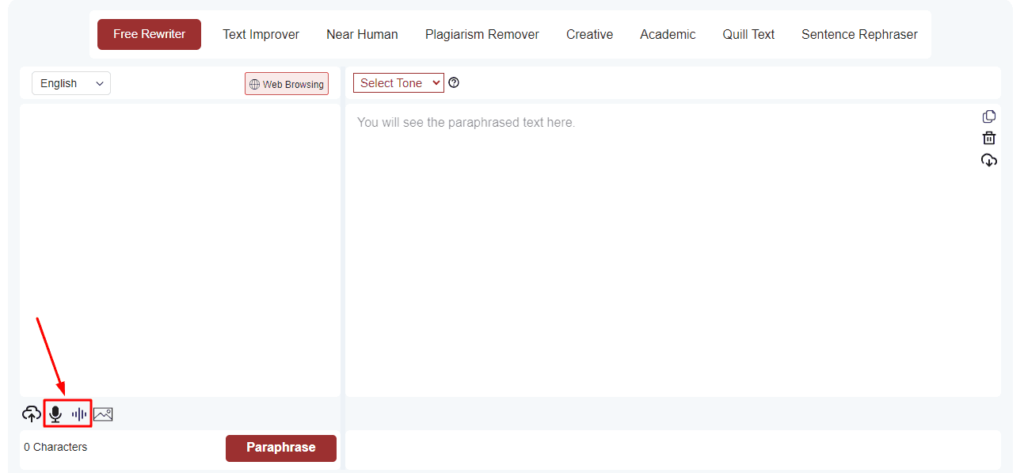 The tool can paraphrase from direct speech input or audio files. 
AI Editor 
AI Editor brings customized Editing to Your Fingertips. This feature imbues you with the power to shape your paraphrased text exactly how you desire.
Whether you need to tweak the tone, modify the style, or enhance the readability, the AI Editor empowers you to do so effortlessly.
Click on 'AI Editor' and a new tab will open. Here you can simplify, expand, and add examples and bullet points as per the requirement of your text.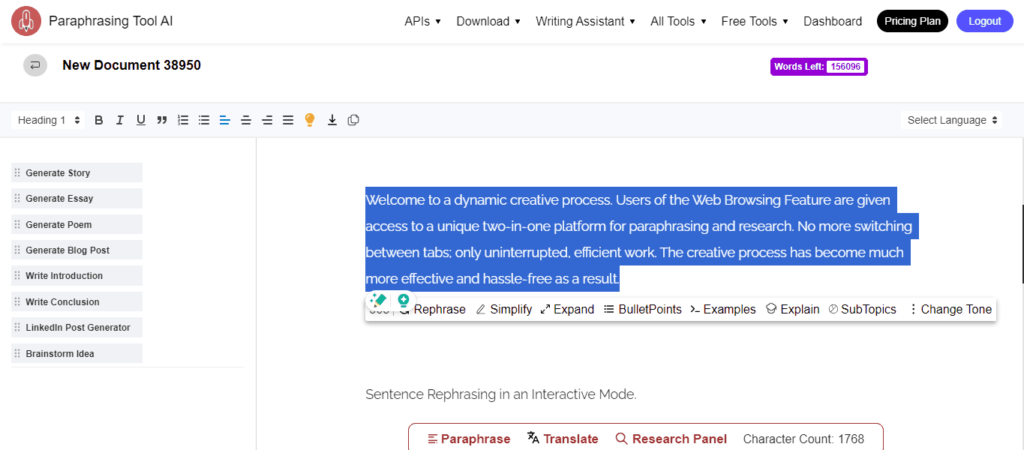 BabuEditor
Paraphrasingtool.ai brings another ace up its sleeve with the introduction of "BabuEditor", a feature designed to elevate the quality of your content with suggestions for improvement. Click on the 'Try BabuEditor' to get suggestions about your text.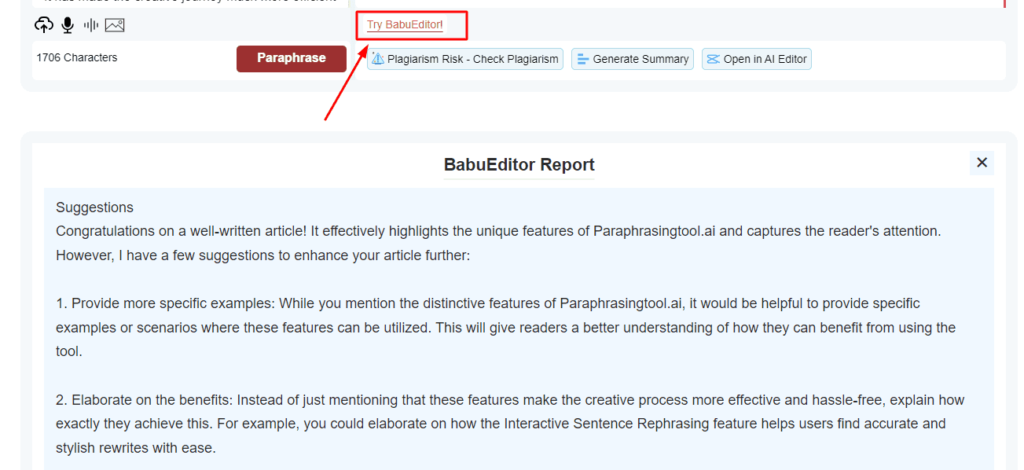 It provides insightful suggestions. For example, it advises on the addition of specific examples to underline your points efficiently.
In short, BabuEditor acts as a critical friend and mentor for your writing, offering recommendations that shape your content into being distinctive, precise, and valuable.  
Price Plans
Paraphrasingtool.ai offers a pricing structure designed to accommodate everyone from casual users to professional writers.
The Free Plan gives you access to three modes with unlimited paraphrasing and a limit of 20,000 characters per paraphrase.
Premium Plan is available at $5 a month when paid annually. This plan unlocks the complete range of features, offering a full-on professional toolset.
Conclusion
A detailed look at the features of Paraphrasingtool.ai establishes it as a robust, invaluable, and innovative tool leading the charge in AI-driven content rewriting. 
There is an addition to its new suite of features streamlined for 2023, from web browsing, interactive sentence rephrasing, and synonym-changing, to the pioneering audio and image paraphraser. 
All of these collectively ensure a high level of user customization. So, you can deliver a final output that perfectly aligns with the user's intent.
With Paraphrasingtool.ai, the future of text rewriting is here, and it is engaging, efficient, and explicitly designed to make writing an exciting job.