KVB Net Banking Login & Registration
3 min read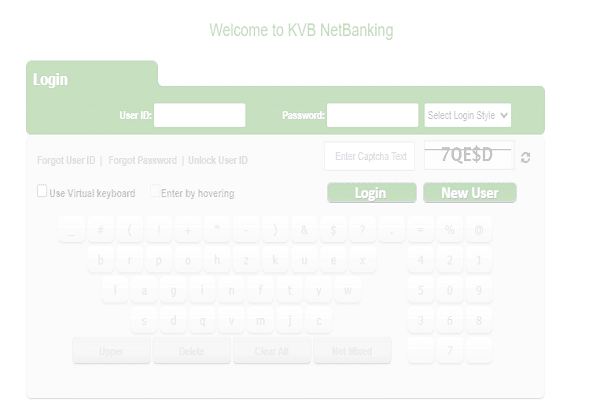 Karur Vysya Bank (KVB) account owners get the facility of KVB net banking, via which they can carry out banking transactions without even visiting the bank. Every banking activity, from fund transfer to the mini statement to registering any service request, can be easily performed online via the KVB internet banking service.
Who are eligible for Karur Vysya Bank's (KVB) net banking service?
Below account holders are eligible for the internet banking of Karur Vysya Bank (KVB).
Corporates
Partnership firms
NRIs
Residential Indians
Hindu Undivided Families (HUFs)
Operational guidelines for Karur Vysya Bank (KVB) net banking
The TPIN and password of Karur Vysya Bank (KVB) should be changed periodically.
Every individual is given a TPIN to carry out financial transactions.
If you have a joint account, only the primary account holder can access the net banking facility.
You can log in to the KVB net banking account via double-factor authentication, consisting of a four-digit PIN and a random number generated by the RSA token.
How can you apply for Karur Vysya Bank (KVB) internet banking?
You must follow the simple steps below to register for the net banking service of Karur Vysya Bank (KVB).
Initially, open the web browser, or you can visit the direct website at https://www.kvb.co.in/
Under the option of login, you have to click on Internet banking.
A new page will open in front of you where you must click on 'continue to login' under secure and safe banking.
Now you have to click on 'new user' on the next page, which has opened on your desktop screen.
Now click on the 'I agree on option for the Terms & Conditions to continue'.
After this, you will be taken to the registration page, where you must select the registration type from either the savings account number or customer ID.
Now enter the required details like expiry date, PIN, Debit/ATM card number and mobile number for proceeding further.
After clicking the submit button, you will successfully register for KVB net banking.
Finally, you will receive a confirmation email from the Karur Vysya Bank (KVB) on your registered email address for resetting your default password. You must change the login password to continue using the net banking service.
Also read: Myapp TCS Login
How you can login to Karur Vysya Bank (KVB)?
First, visit the net banking portal at the web address https://www.kvbin.com/B001/ENULogin.jsp
Now you must enter your User ID and password and click the login button.
You can now unlock your User ID or get the user ID if you have forgotten it. You can use the Karur Vysya Bank (KVB) portal for this.
You can also reset the login password via this portal.
KVB net banking portal services
Fund transfer
It allows users to transfer funds from the savings account to any other KVB account and another bank account.
My account
Every savings and current account linked to the customer ID can be seen under this section, and you can get various details of the current balance, account name, account number etc.